Life 'round these parts is not busy at all. I've got oodles of free time on my hands as I try to finish my dissertation, search for a job, traverse the skies between Nashville and Tampa, paint the bathroom, help the boy landscape the yard, and try to figure out why there are always huge piles of laundry to be done. Free time....HA!

Yet even with all these demands on my time, I still have the urge to create something. I know I could be working on those long promised patterns for you guys (they are coming, I promise), but wouldn't it be nice to have someone else do all that pesky thinking? And make a pretty quilt? And maybe win some sewing supplies in the process?

That was exactly the thinking that sucked me into my latest adventure. I was blog cruising the other day and ran across this post on the Old Red Barn Co. blog. Remember the quilt giveaway from last summer? Now Dana's doing a quilt along for that same pattern, with plenty of giveaways along the way. And the grand daddy giveaway at the end is a Janome 6600! Yup, same as my baby. Obviously I don't need it, but one of you should win because its an awesome machine. Totally not to late to join in the fun as I'm just getting started myself!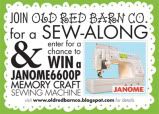 I tried to go for a stash-busting quilt as I should not even be starting this project, never mind buying more fabric.
I bought more fabric. Just a little, I promise!
But look: pretty, green, and featuring a lot of my favorite fabric designers! Yippee!
Left to right:
Top row - Paula Prass, Anna Griffin, Paula Prass, Heather Bailey, Amy Butler, Anna Maria Horner
Bottom row - Heather Bailey, random stash fabric from JoAnn's, Amy Butler, Jessica Jones, Amy Butler, Patty Young
I'm a little behind the official steps of the quilt along, but I've got strip ready for when I get a free moment to sew:
I'll keep you updated on on my progress (or lack thereof) here, but in the mean time you can head on over to the
flickr group
to see how everyone else is sewing along!